PARISH TWINNING PROGRAM OF THE AMERICAS TO HOST "ALL THINGS ARE POSSIBLE"
NATIONAL CONFERENCE FOR TWIN PARISHES
AUGUST 26-28, 2022, IN NASHVILLE
NASHVILLE, Tenn. (March 1, 2022) – Individuals from U.S. Catholic parishes will have the opportunity to share information and learn about best practices for building spiritually enriching twinning relationships by attending "All Things Are Possible: Sharing God's Love in Haiti and Latin America," the national conference of Parish Twinning Program of the Americas (PTPA) in Nashville on August 26-28, 2022. 
The mission of PTPA is to establish long-term twinning relationships between Catholic parishes in the U.S. and Catholic parishes in impoverished countries in Haiti and Latin America. Since its founding in 1978, PTPA has formed more than 300 twinning relationships, which have made life-altering changes in Catholic parishes located in poverty-stricken communities in third world countries. 
"The conference will be a unique opportunity to learn about best practices in serving basic needs and empowering self-reliance in a true spirit of solidarity with the poorest of the poor," said Theresa Patterson, PTPA founder and executive director.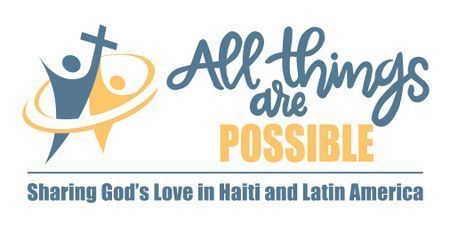 WHAT:        2022 PTPA National Conference
WHO:         Catholics interested in or involved in parish twinning relationships
WHEN:       August 26 – 28, 2022
WHERE:    Conference sessions at the Catholic Pastoral Center of the Diocese of Nashville
Lodging and special events at The Inn at Opryland, Nashville, TN
Click Here to Register now!
Cardinal Oscar Rodriguez Maradiaga of Honduras is among a host of prominent keynote speakers who will address the profound impact parishes have when they answer God's call to serve the poor in impoverished countries. The conference will feature workshops focused on a variety of crucial topics, including strategies to address infectious diseases, food insecurity, ensuring clean water, sanitation, and hygiene (WASH), sustainable community development, support for education and schools, medical and dental services, among others. Special social events, including receptions and dinner banquet, will provide opportunities for participants to network.

Food For The Poor (FFTP) is a primary sponsor of the PTPA National Conference. For the past three years, FFTP has worked with PTPA to distribute life-saving food resources to twinned parishes in Haiti and Latin America to address acute food insecurity. Food For The Poor, one of the largest international relief and development organizations in the nation, does much more than feed millions of hungry children and families living in poverty primarily in 17 countries of the Caribbean and Latin America. This interdenominational Christian ministry provides emergency relief assistance, clean water, medicine, educational materials, homes, support for vulnerable children, care for the aged, skills training and micro-enterprise development assistance. For more information, please visit www.foodforthepoor.org.

About PTPA Parish Twinning Program of the Americas (PTPA) is a Catholic, non-profit organization whose mission is to live the Gospel by seeking, building and maintaining twinning relationships between parishes in the U.S. and parishes in Haiti and Latin America. Since its founding in 1978, PTPA has grown to become the largest, most significant organization of its kind, having formed nearly 300 twinnings for parishes located in 73 Catholic dioceses in 31 states.